At the beginning of February, I received an email from Megan at Build a Sign who found my blog while searching through Mixed Martial Arts blogs. She went on to say that her company wanted to send me some swag to help me promote my blog. I was intrigued by this, and immediately headed over to
buildasign.com
to check out the company and what they had to offer. I was blown away by the diversity of banners, signs, bumper stickers, clings, and decals that they had. It took me a long while to scroll through the pages until I finally selected a couple of designs that I liked.
That's where the fun really began. When you choose a base design, the website takes you to a page where you can customize your item as much as you want. You can upload clipart, add your own message, and choose from a wide array of colors. I had a blast designing my bumper stickers and window decal. Here's what I ended up with: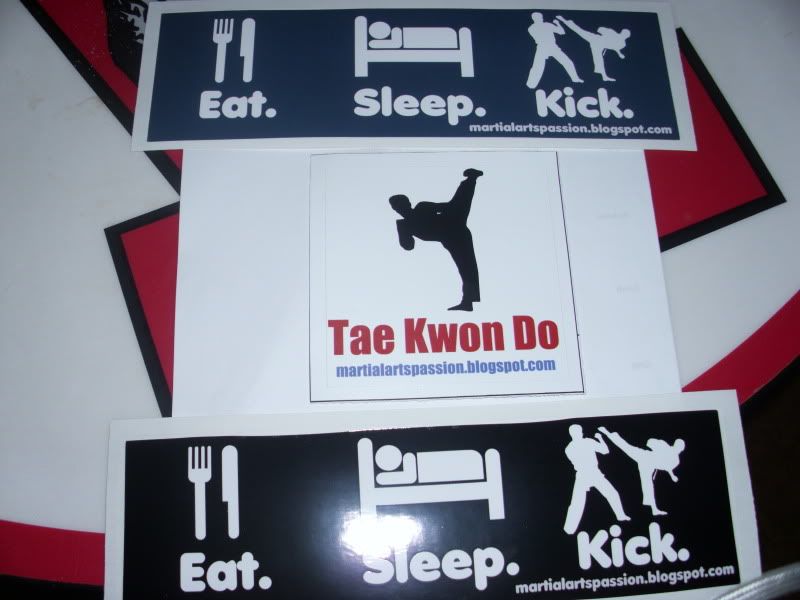 After I created the designs, Megan took care of the rest. She was wonderful and easy to work with. My shipment arrived quickly too. I'm very pleased with the quality of the stickers. I have one of the bumper stickers on my car and have already had several comments about it. I've given a few out to my instructors, and of course they chose the black over the navy blue. As far as the decal, I could not decide where I wanted to put it, so I stuck it to the front page of my journal. I think it fits quite well there.
Anyway, if anyone would like one of the bumper stickers, leave me a comment telling me what color you would like and I'd be glad to send you one. I'll only ship to the U.S. only. Sorry to all my overseas friends.