I hope everyone had a very Merry Christmas! My family and I stayed home all day yesterday and just relaxed after opening presents. It was nice to just sit back and enjoy the day and not have to worry about any obligations.
My post mentions after Christmas shopping, but I did not dare go out in all the rush like my mom did today. Instead, I did some 'surfing' and 'clicking' and found something I really needed on
KarateDepot.com
. (Link to their website is on the top corner of the page) A new sparring gear bag.
My current one has one compartment to hold all my sparring gear and my belt. One compartment is NOT a good idea for me. After some of our workouts in class, I really don't want to store my belt with all of the sweaty sparring gear, so here is what I'm getting: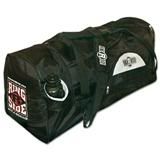 Have a great rest of December!